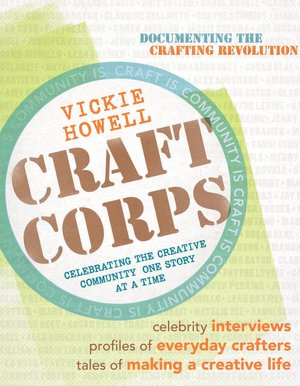 Calling all crafty boys and girls, do you want to be in a book? Vickie Howell is looking to profile some crafters in her new book on the crafting community. Full details are on her blog but here is a brief snapshot:
Calling all crafters! I'm gearing up to write my next book, Craft Corps (pronounced Craft Core) which will focus on the community perpetuated by craft and the designers & hobbyists who feed it. As part of the content, I'm hoping to include 50-60 short profiles of crafters of all types. If you knit, crochet, embroider, decoupage, paint, sew, bead, tat, work with ceramics, collage, etc.—I want to hear from you! Whether you've found success selling your handmade sock monkeys on Etsy or you crochet chemo caps for charity, I want to know who you are, what you craft and why you do it. YOU DO NOT NEED TO BE PROFESSIONAL CRAFTERS (in fact, it's preferable as the book's other content will focus on that)!
There is a profile form for you to cut and paste into an email before 15th August. Do it. I've already sent my profile off, giving a big up for our own Craft Guerrilla of course!