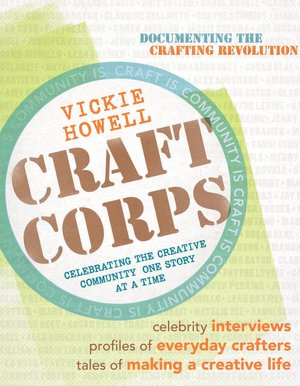 Vickie Howell is launching "Craft Corps" a website and book documenting the development of the crafting community and my profile is in it! For those of you who haven't heard of Vickie, she's a huge part of the US craft movement, and author of several books, crafty TV shows, and mother of two boys with a baby girl on the way, among other things. Here's an extract from her biog:
"…she's acted as owner, designer, web-mistress and CEO of three craft-based businesses. Mamarama, founded in 2001, offered cool hand-made garb for hip moms and their kids. In 2003, after relocating to Austin, Texas, Vickie co-founded Ruby Goes Retro (RgR) with her sister-in-law. RgR furnished hipsters worldwide with authentic, embellished and inspired by vintage clothing and accessories. In 2005 she founded VickieHowell.com under her company Vickie Howell, Inc., as a homebase for her many crafty endeavors. Networking for her businesses lead her to nine other crafty entrepreneurs and, together, they co-founded Austin Craft Mafia (ACM), an organization whose sole purpose is to promote and support independent, female-run, craft based businesses.
In efforts to do her part in the mobilization of the feminist-based knitting movement, she founded successful chapters of the irreverent but socially conscious knitting group Stitch n' Bitch, in Los Angeles, CA and Austin, TX."
She is one cool, crafty lady! Here's a bit about the Craft Corps Blog, in her own words:
Hey there and welcome to the Craft Corps Blog, launched in May '09 in celebration of not only you the crafter, but also the one-year countdown to Craft Corps the book (May '10–which will include 30 interviews with craft super stars such as Amy Butler, Crafty Chica and Jay McCarroll )! I'm so excited about the Craft Corps projects and thrilled that crafters like yourselves will be able to join the movement with me.

The primary goal of both the blog and the book is to nurture our wonderful community by telling your stories and elevating the perception of the value of craft, all crafts, amongst society. Being creative, as a hobby or professionally, is a gift and deserves to be celebrated. I hope to do that here.

Want to join the Corps? Simply add your e-mail address to the Craft Corps Weekly mailing list to read a new, featured crafter's profile every week. Dig through our archives for stories in genres from knitting to wood working. Submit your own crafty anecdote and be added to our links page. Recruit your friends by spreading the Craft Corps word.

I'm so happy to have you here!

Craft. Rock. Love.,
Vickie Howell
My profile can be viewed by clicking here. Spread the word – Craft Corps wants YOU!