A busy week this week, here's the round-up.
Crafty Inspiration
The next level of fridge magnet (for my sister's addiction):
Source: backstitch.tumblr.com Via: Pinterest
T-shirt to dress illustrated tutorial
Source: mandalinarossa.tumblr.com Via: Pinterest
An "I want this in my mouth right now" moment (chocolate mousse recipe)
Source: cafefernando.com Via: Pinterest
DIY Tuban Twisted Scarf
Another fabric stash busting project. Yes, sorry, I am a bit obsessed but then I do have a *cough* rather large stash.
Source: www.sayyestohoboken.com Via: Pinterest
Reading and Writing
This week I wrote a book review for UK Handmade magazine and started reading two books for reviewing to submit to Mslexia. I've also been doing some editing on my novel in preparation for submitting it to an agent and / or entering it in the Mslexia novel competition.
Making
I cast on this pattern by Nikol Lohr on knitty.com. I think it's the perfect topping to my new red patent shoes I bought this weekend. To complete the outfit my black pencil skirt (with red silk lining!) that I've nearly finished making will be the perfect sandwich filling between the two.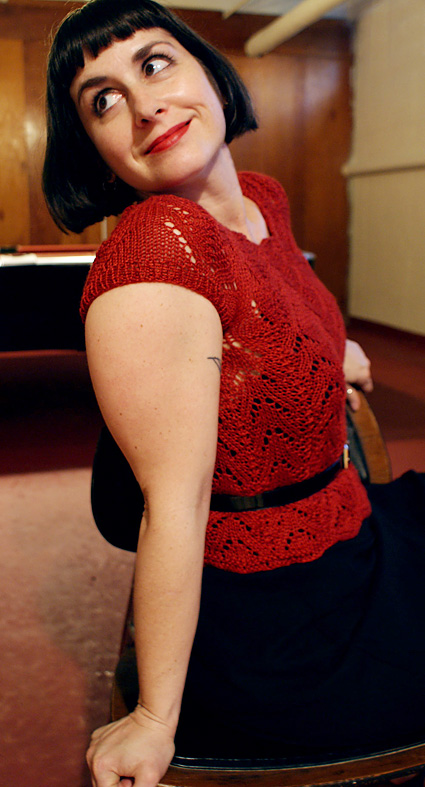 I got a bit confused over the first increase round, but after ripping it back a couple of times, inserting some lace markers for each pattern repetition and putting in a lifeline on the row before the increase (to make it easier to rip back if needed) I seem to have got the hang of it. It's knitting up pretty quick which makes for a satisfying knit which is challenging enough to be interesting, not frustrating.
Have a lovely weekend!